WOOOO LIIFT4 WEEK 1!!!! I have been (and still am) so pumped about this program, you guys. First of all, it's just four 30-40 minute workouts per week. You get three rest days. THREE. AND there is a "cheat day" built in to the meal plan. My team likes to call this a treat day, because we're not totally departing from the meal plan on this day, but we do get to indulge a bit. And finally, even though it's mainly a weight lifting program, you CAN do all of the exercises with a resistance band instead of weights, which is PERFECT for summer travel.
So how did it really go??
Well, in the summer, I work three days a week (Tuesday-Thursday) at a summer camp called Summer Adventures in Learning. It's an academically based program geared at maintaining and developing academic skills over the summer months in order to address "summer slide". Class sizes are small allowing teachers to target each individual student's needsand provide a hands-on, multi-sensory approach to learning creating a fun and engaging experience for students (you can creep on the program and find pictures of me teaching here). I teach music at this summer camp.
It's been working out really nice with my summer health journey, because I plan on doing alternating morning/afternoon workouts with LIIFT4. Mondays will be mornings, Tuesdays and Thursdays will be after camp, and Fridays will be mornings. Wednesday, Saturday, and Sunday are all rest days.
To be honest, the first Wednesday rest day was kind of odd for me. I'm not used to having a "day off" from working out midweek like that. And in the case of this past Week 1, I actually pushed my Friday workout to Saturday (which is another benefit of the program: it's way less rigid than 80 Day Obsession is) because I wanted to do my leg day workout with my brother. We both visited my parents last weekend and we're both doing LIIFT4!
We actually did our leg day workout solely with resistance bands (because even though I've done it before, I was not gonna lug all my weights out to my parents' house, haha). And it was fun joking around with him as we worked out.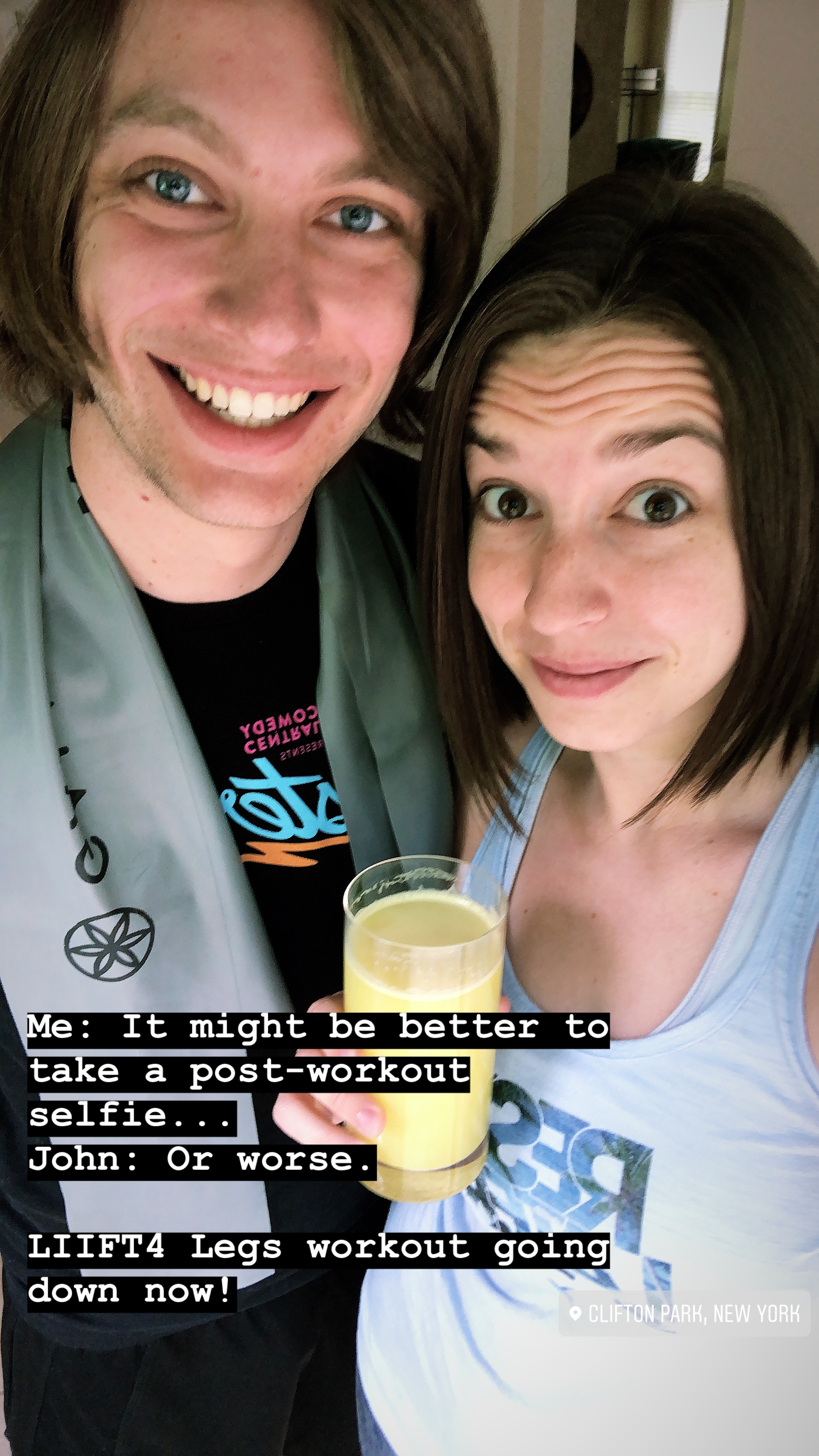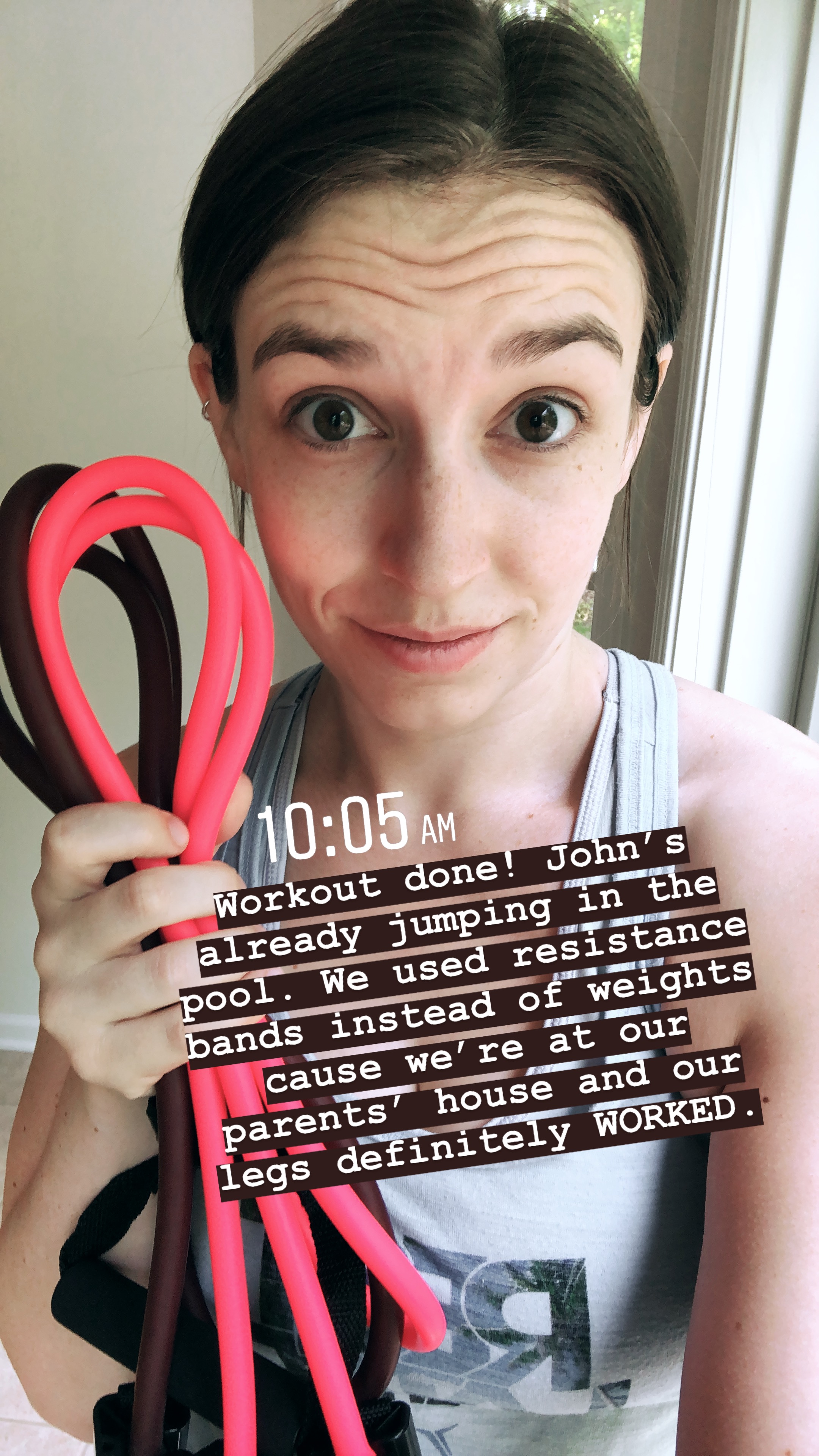 Let's talk nutrition. For Week 1 of LIIFT4, I made out a meal plan for the week as best I could (check it out here). Obviously, it's tough when you're traveling and you don't know what's gonna happen, so I left some blank spots, but I did bring my superfoods with me for the weekend.
Some things that went well: there were two dynamo meals that we made this week. One was steak and marinated grilled veggies for Sunday night dinner, before LIIFT4 started. I used the veggies in my lunches all week. It felt nice to be back in the meal plan/prep groove. I've kinda taken a hiatus since the last week of school on that. The second was this amazing shrimp curry. We have never made curry before, so it was kind of a risk, but it paid off. That ish was savory. So good.
Things that did not go so well: I tried to make butternut squash noodles with a cauliflower alfredo sauce and it turned out like garbage. I've never made a good cauliflower alfredo. TBH (and "you should always be H", as my mom says), I opened up a jar of Bertolli alfredo that we had in the cabinet and used that on the veggie noodles instead.
Additionally, the "cheat day" turned a bit into a "cheat weekend" (instead of one single treat). We had a good bit of pizza, wine, beer, and fast food over the weekend and, boy, did we feel it this morning when we woke up (I say we meaning me and my husband, we both woke up feeling crappy).
But I got up, pushed play on Day 1 Week 2, meal planned/grocery shopped, had a great lunch date from CoreLife with my husband, and meal prepped my lunches for camp. Back on track.