Week 5, ahh, what a change!
The workouts were more intense in such an awesome way. AND the number of calories I get to consume was bumped up due to that workout intensity sooo it was a win-win. More healthy carbs and fruits. So it was win-win-win?
The order of the workouts each week is different now that it was in Phase 1. It now goes:
Monday - booty day
Tuesday - cardio core (the workout that once made me cry)
Wednesday - AAA (arms, abs, and butt :P)
Thursday - leg day
Friday - total body core
Saturday - cardio flow
Sunday - rest day
My husband Sawyer was supposed to be out of town in the middle of this week, but his work trip got cancelled. Which was fine, that means I got to see him more, but I was planning on BLASTING my music to help me get through some of these workouts and I didn't want to bug him with it, especially since I had to do my Wednesday workout in the early AM. I had pit band rehearsal after school and then 8th grade parent night in the evening (what a way to spend Valentine's Day!). I still did pump up the jams for cardio core - I NEED it. It's what gets me psyched up instead of psyched out. I don't know why I can suddenly lift heavy, but ask me to do some cardio, and I wimp out.
I ate dinner out three times this week. And I still stuck to my meal plan! On Tuesday night, I took my girlfriend Olivia out to dinner for an early birthday celebration. She picked this AWESOME Mexican place that I'd never been to (San Miguel in Syracuse, check it out). I am proud to say that I resisted the chips & salsa (now that is the true test of self-control). I ordered the carne asada and ate the steak (protein), pico de gallo + onions sauteed in butter (veggies and oil), and refried beans (carb). I skipped out on the guac and most of the rice on my plate. And the tortillas on the side. Now I love me some flour tortillas. My friends and family can attest to me eating MULTIPLE plain flour tortillas. So that is a huge non-scale victory for me, to be honest.
I had takeout from Francesca's (I got the steak salad) on Friday and we tried a new sushi place near our house on Saturday (Asuka Grill & Sushi Bar). Sushi is actually pretty easy to eat on the meal plan. I tried seaweed salad for the first time and it was GOOD. It's something I'm gonna get every time I order sushi now! So pumped this new restaurant is only like 4 minutes from our house.
On Saturday, Sawyer and I were invited to join our friends Chris & Amanda for couple's yoga at Mandala Moon Yoga in Marcellus. It was perfect timing in my workout week - I had done my Saturday workout early in the AM, so I was up for a good stretch. And I was excited to try out partner yoga - I had never done that before. It was really cool that Sawyer was so open-minded about trying it. The last time he did yoga was on New Year's Day 2014 or 2015 (basically, we woke up feeling so gross after eating/drinking, that we felt we needed to do something healthy, so we pulled out the only at-home workout I had at the time - a generic yoga DVD from Target or Wegmans).
Check out these awesome poses we got to do! I am so proud of us!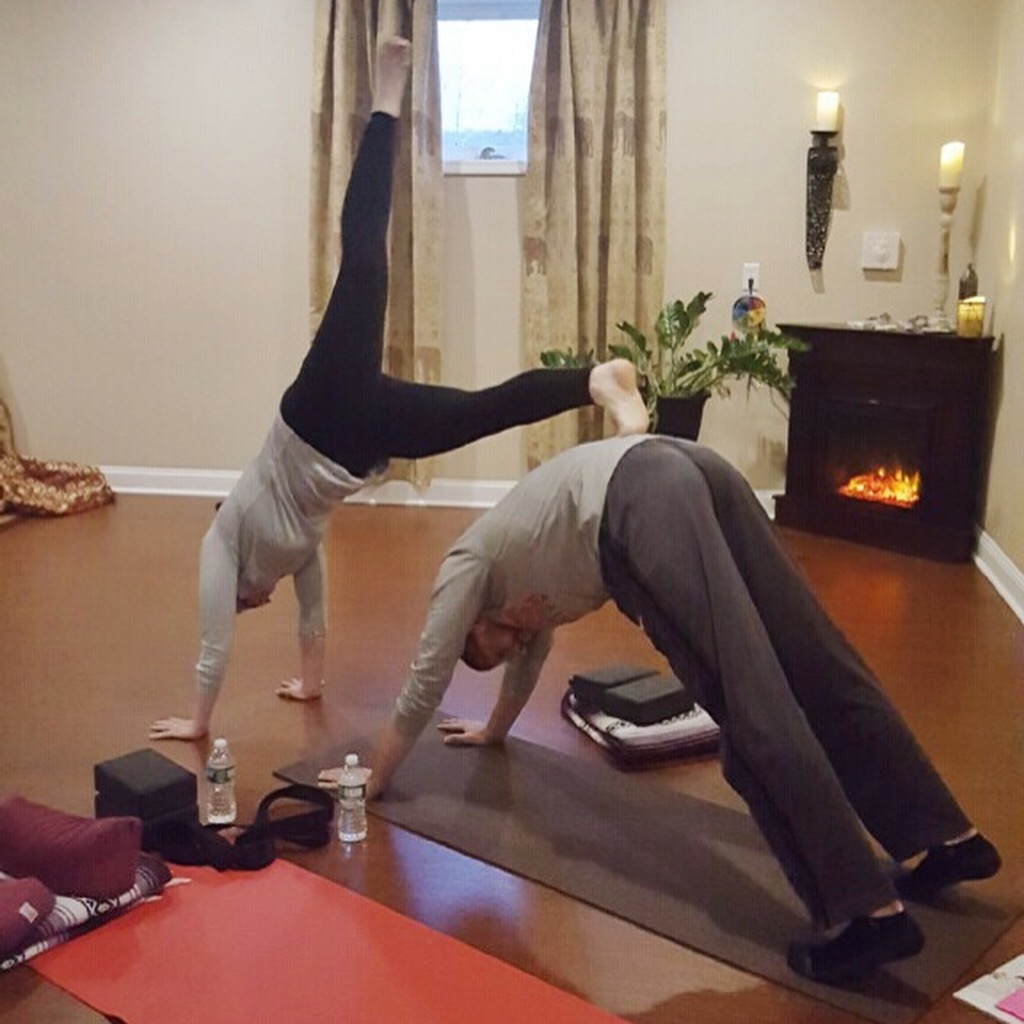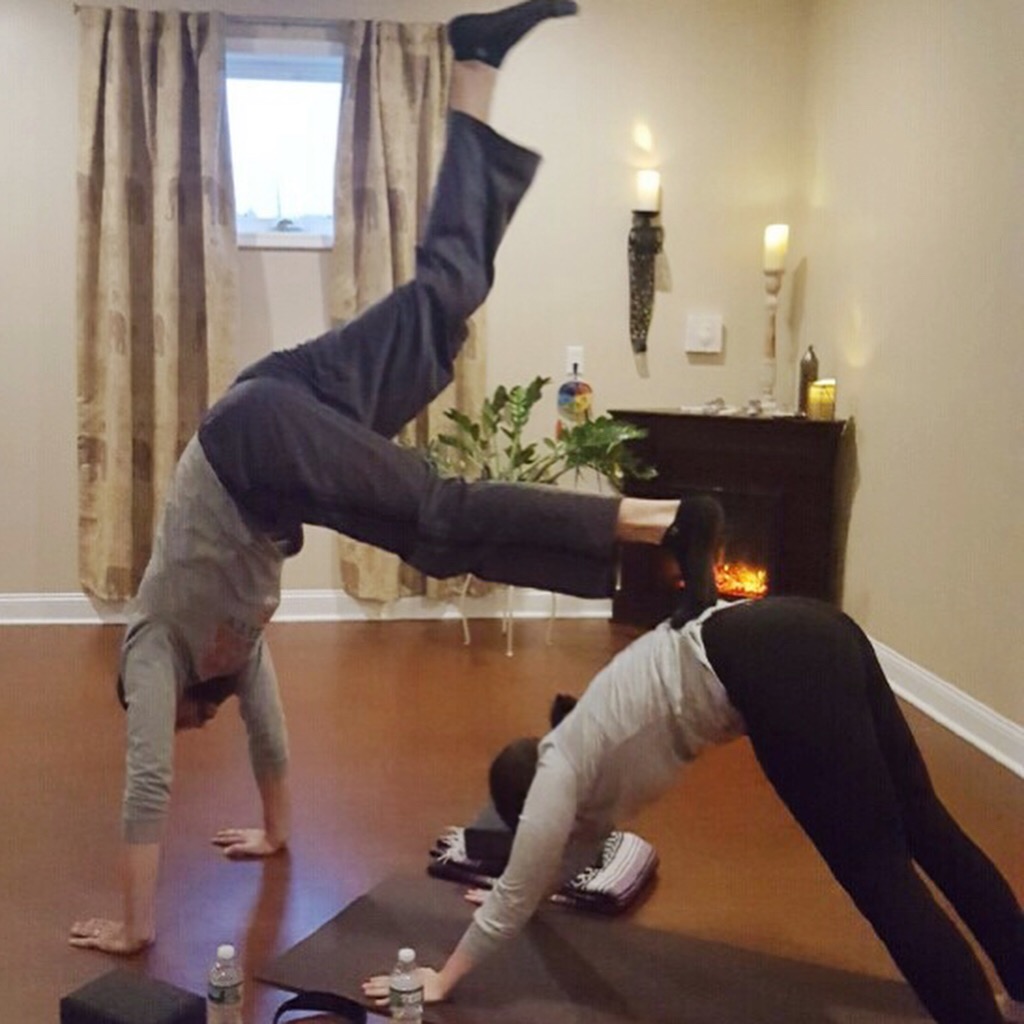 I am always so so glad when I get to do healthy things with other people, or when I see those around me being influenced to make healthy choices. I am looking forward to Week 6 next week, mostly because I will get a REFEED DAY on Wednesday! Which means that I get to eat "dirty carbs" AKA white bread to replenish the glycogen in my muscles and set my body up for success on Thursday's leg day.
I am also nervous. Because it is my February break. So I get a week off from teaching. This would sound like I'd have more time to eat right and exercise, but I know myself. I know that I will waste a lot of time next week dilly-dallying around and getting nothing done. I much prefer the structure of school/the work week. I know to many that may sound crazy, but there are definitely teachers out there who agree with me!
I plan on spending a few days out in Albany with my parents. You best believe that I'm taking all of my weights with me and getting my workouts in! Hold me to it!